2017 Solar Eclipse – Camping and Viewing Event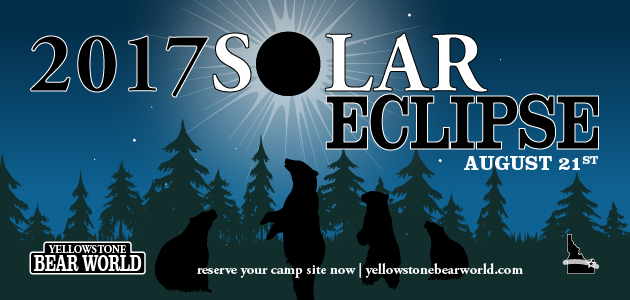 Total Solar Eclipse—a natural phenomenon which last happened in the U.S.A. in 1918—is going to be occurring in 2017! And the best location to view this spectacular event is right here at Yellowstone Bear World. We are offering camping and viewing spaces from August 18th – August 22nd for the Solar Eclipse which is on August 21st.
The solar eclipse starts at approximately 10:15 AM MST and will completely cover the sun at 11:33 AM. At Yellowstone Bear World the eclipse will last about 2 minutes and 18 seconds. One of the longest viewing windows in the country! The eclipse will end at about 12:50 PM, when the sun emerges completely from behind the moon.
Don't miss this once in a lifetime opportunity! Check-in begins on August 18th at noon, and check-out is on August 22nd at noon. Do you want to extend your stay and miss traffic? Additional days are available for purchase. Space is extremely limited, So make sure to reserve your camping and viewing spot for this awe inspiring event!
Reserve Tickets Now
What is the 2017 Solar Eclipse?
This eclipse is a total solar eclipse, which are rare compared to lunar or partial eclipses. A total solar eclipse is when the sun, moon and earth line up so the sun is completely blocked from view. It is the only eclipse where you are in the moon's shadow. It will be so dark that you will be able to see the stars during the day!
Why Should I see the Solar Eclipse at Bear World?
Yellowstone Bear World is the perfect place to see the 2017 Solar Eclipse. The narrow path at the center of the moon's shadow is what gives the full effect of the eclipse. Yellowstone Bear World is directly in this limited pathway. We are one of the few places in the nation where you can experience the full effect of the eclipse for its entire duration.
Consistently good weather and open fields allow for perfect viewing with no obstructions. Due to the rarity of the event, many venues are booked for the eclipse. Yellowstone Bear World is one of the last places still available to make reservations to ensure a unique view. Other reserved locations have booked large crowds over a year in advance. Pricing their spots up to $1000 a day. Yellowstone Bear World has opened up private fields that are divided into dry camping spots for days spanning before and after the event. This enables families to enjoy a full, fun filled camping trip that highlights the eclipse itself. With event memorabilia and accommodations made available, Yellowstone Bear World's 2017 Solar Eclipse event is one of the prime viewing avenues with the lowest priced spots for reservation anywhere.
Is the Solar Eclipse Going to be a Big Deal?
South eastern Idaho is being touted as a prime viewing location across the nation. Even being mentioned by NASA itself. Thousands of people travel from all over the world to view a total solar eclipse. Experts are estimating that there will be an extra 10-20,000 people per community in our state.
It is extremely important to make plans early because of high demand. It is also encouraged for day-trippers to plan on an extended stay due to high volumes of travelers. Authorities are anticipating major traffic congestion on eclipse day as people drive in to witness this event. Lodging in Idaho Falls, Victor, Driggs and Stanley are already booked, leaving Yellowstone Bear World not only one of the best, but also one of the last options out there. Here are two links that outline information about the eclipse in order to assist you in planning the experience of a lifetime:
http://www.eclipse2017.org/2017/communities/states/ID/Rexburg_90.htm
https://www.greatamericaneclipse.com/idaho/.
Reserve Tickets Now