The Best Time of Year to Visit Yellowstone to See Bears
If you're coming to see bears in Yellowstone, you've gotta plan for it. When you just show up and expect to see bears, your best case scenario is catching a few glimpses of the bears you came to see. Your worst case scenario is coming home with an empty camera roll, no bears to be found. You can avoid this latter scenario by planning your trip around when the bears will be active.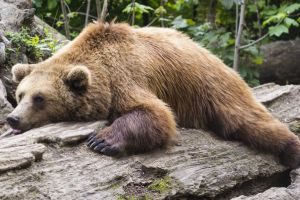 Take time to learn all the animals' schedules, not just the bears'. By learning about when the bears' prey is active in the park and their migration patterns, you can make some educated guesses about when and where to see the bears. There's a ton of information available online about the bears and other animals that call Yellowstone their home.
If you Want to See Baby Bears, Come in the Spring
There's no denying it; baby bears are cute. Many tourists visit Yellowstone each spring specifically to see bear cubs as they emerge from their dens.
Be careful about seeking out glimpses of bear cubs, though. Mother bears are extremely protective of their young, and getting between a mother and her babies can result in a serious, potentially deadly, bear encounter.
Catch the Bears Fattening Up in the Fall
Another popular time to see the bears is during the autumn as they prepare to hibernate. There are other reasons why fall is such a popular time to visit Yellowstone as well, like being able to see the leaves change colors and watching the elk during their most active time of year. Fall is also popular among Yellowstone visitors because the cooler weather makes it more comfortable to hike through the park's trails. Many visitors who come specifically to see wild animals in their habitats report that far more animal sightings happen in the fall than in the summer.
Keep the Bears' Schedule in Mind
Really, the only time of year when bear sightings are less likely is the winter. That's because the bears are hibernating. When you're planning your trip to Yellowstone, take time to learn about the bears' hibernation schedules. If seeing bears is part of your plan, time the trip so the bears are out and visible.
Don't discount the off-season – when the bears are around but the human crowds are small, you can get some great bear sightings. If you're ever unsure about how to plan your trip to maximize your chance of seeing a bear, ask a Yellowstone staff member.
Get All the Visitor Info you Need from Yellowstone Bear World
One way to guarantee you'll see bears during your trip to Yellowstone is to make Yellowstone Bear World part of your trip itinerary. Visit us online or give our office a call for information about where we are, when we're open, and our admission prices. If you've got any other questions about visiting Yellowstone Bear World, just ask!