A Quick Guide to the Coolest Geothermal Features in Yellowstone
When you come to Yellowstone National Park, there's a lot to do. Yellowstone Bear World is your best bet for safely coming up close and personal with bears in Yellowstone and other wild animals. Another thing you don't want to miss is Yellowstone's many geothermal features. These geysers and hot springs are one of the natural wonders of North America and a key part of what makes Yellowstone so unique.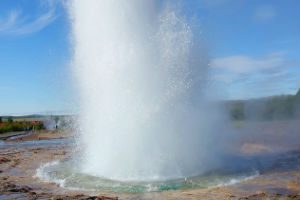 Mammoth Hot Springs
When you check out Mammoth Hot Springs, you'll feel like you've gone back in time. And you'll see a landscape hundreds of thousands of years in the making. Mammoth Hot Springs was formed as hot water has flowed over the limestone for the past 600,000 years, shaping the soft rock.
Artists' Paintpots
With a name as colorful as Artists' Paintpots, you know you're in for a pretty treat. Artists' Paintpots is a collection of colorful hot springs and thermal mud pots. A mud pot is an acidic hot spring that contains microorganisms that decompose the rock in their environment, creating mud as the limited amount of surrounding water bubbles.
Mud Volcano
Officially known as the Hayden Valley Geyser Basin, Mud Volcano is a region full of geothermal features. And yes, they're muddy. Prepare to cover your nose as you get closer to the heart of Mud Volcano because you're going to run into a thick odor that smells distinctly like rotten eggs. It's sulfuric acid evaporating and becoming hydrogen sulfide gas.
Even though it smells, Mud Volcano is worth your time. One of the most popular features in the area is Dragon's Mouth Spring, a cave in a hill that fills steadily from a spring inside. Along with water, gas rises from the spring, causing the water to splash back and forth within the cave, resembling a tongue lashing to and fro.
The Upper Geyser Basin
The Upper Geyser Basin isn't just one geothermal feature, it's a collection of more than 150 geysers within an area that measures only one square mile. The Firehole River flows through the basin, which is only about a half mile wide. If you want to see lots of geysers within a short period of time, head to the Upper Geyser Basin – you won't be disappointed!
Old Faithful
We can't write a blog post about the coolest geothermal features in Yellowstone without mentioning Old Faithful. After all, it's the most famous geyser in America for a reason.
In 1870, the members of the Washburn Expedition watched in awe as Old Faithful erupted. Then they watched it erupt again, and again approximately every 92 minutes. It's this clockwork eruption schedule that earned it the nickname Old Faithful.
Don't Miss Yellowstone Bear World
You saw the habitat, next see the animals that call Yellowstone home at Yellowstone Bear World. In our drive-through adventure, you can see black bears, grizzlies, moose, and other wildlife in their natural habitats from the safety of your vehicle. If have any questions about our admission rates, hours, or how to get here, check our website or give Yellowstone Bear World a call.