Animals and the Solar Eclipse
In just a few days we will have had a total solar eclipse pass right through Rexburg. Millions of people are making the trip to see the once in a lifetime event of watching the moon cover the sun in totality. There is another once in a lifetime event right here is Rexburg. You can come to Yellowstone Bear World where you can see all of the largest Yellowstone animals from grey wolves to the mighty grizzly bear. You will be stunned at the majesty of these amazing animals. In fact, you can drive through our property at your leisure and see the Mule Deer, Black Bear, and Bison from the comfort of your car.  Not only can you see the wildlife, but there is so much more to do. Yellowstone Bear World can transform your family trip into magical memories that will never be forgotten.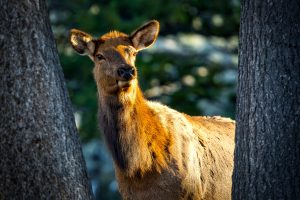 What Happens to Animals During a Solar Eclipse?
There are hundreds of reports on what happens to animals during a solar eclipse. Farmers report that their cows suddenly return to the barn. People have reported that crickets begin to chirp and that orb weaving spiders will ruin their webs. There have even been reports of bats coming out, and regular day birds falling from the sky, or going oddly quiet. Since large Yellowstone animals have rarely been seen during an eclipse, we don't really know what our bears, moose and bison will do. If you are in Rexburg for the Solar Eclipse, come to Yellowstone Bear World and your questions will be answered. If you decide to plan a trip at a later date, feel free to talk to our friendly staff, they will have information about their experiences with the animals when the stars came out in the middle of the day.
The Experiences
Not only can you drive through Yellowstone Bear World and see amazing animals, but we have a variety of different experiences that will make transform your trip. One of our most popular experiences is bottle feeding our bear cubs. You cannot get close to a bear than this! There is a limited number of opportunities per day, so you might want to schedule your bottle feeding event in advance. We also have curator tours where you will get to see behind the scenes and witness what it takes to care for these amazing animals. You will even be able to ride on our special high top vehicles that will give you the perfect view of all our animals. If a picture is worth a thousand words, you will have a million words from all the pictures you can take. For the younger kids and teenagers in your family, we have a petting zoo and a bunch of carnival rides. When you want amazing experiences, come to Yellowstone Bear World.