Iconic All-American Bears
Bears have been one of America's favorite animals for a long time. Perhaps this is because our country is home to a few different species of bears. Or maybe we're fascinated by bears for the same reason we're fascinated by sharks and lions – apex predators are undoubtedly cool and every year, lots of people come to see bears in Yellowstone. America's love of bears has led to many different bears, some fictional and some real, ingraining themselves in our collective consciousness. Check out our list of iconic American bears to see a few of our favorites.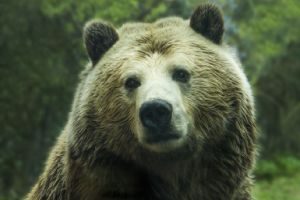 Brutus the Bear
Brutus the Bear began his life at a wildlife park. After being adopted by Casey Anderson, the host of National Geographic's documentary program Expedition Grizzly, he became a star. He became Anderson's co-host on the series and later, starred in films and commercials. Today, at more than seven feet tall and 900 pounds, Brutus lives a peaceful life at Montana Grizzly Encounter bear sanctuary.
Big Red Bear
Despite its name, Cornell University's mascot isn't red, it's brown. Bears are a popular mascot for high school, college, and professional sports teams because of their strength and hunting prowess. Cornell's first bear mascot, Touchdown, was introduced in 1915. Initially, the university had a live bear cub that would come onto the field during football games. Today, Touchdown is represented by a student wearing a bear costume, and the original cubs who portrayed Touchdown are memorialized with a statue on campus.
Teddy Bear
The name "Teddy Bear" doesn't actually refer to a specific bear, but a nickname given to the toy designed in President Theodore Roosevelt's honor after he refused to shoot a captive black bear while on a hunting trip. Roosevelt declared the shooting of a bound bear to be unsportsmanlike, which led to political cartoons depicting the event to appear in newspapers across the nation. Today, teddy bears are a beloved childhood staple.
Bart the Bear
Bart the Bear was a famous bear who starred in multiple movies, including White Fang and The Edge. He was also reported to have been nominated for an Oscar for his performance in the 1988 French film The Bear. After Bart was diagnosed with cancer, he became the "spokesbear" for the Animal Cancer Center at Colorado State University.
Yogi Bear
We couldn't do a roundup of America's favorite bears without including Yogi! Yogi Bear made his television debut in 1958 on The Huckleberry Hound Show. In 1961, Hanna-Barbera gave him his own show, and today, he's the mascot of more than 70 Yogi Bear's Jellystone Park Camp Resorts campgrounds and RV parks throughout the United States.
Come See Real Bears in their Natural Habitat at Yellowstone Bear World
You can see plenty of fictional bears on tv and on your computer screen, but if you want to see real bears up close, in their natural habitat from the safety of your own vehicle, Yellowstone Bear World is your best choice. Get in touch with our office today for more information about visiting Yellowstone Bear World.