What Kinds of Animals Will I See in Yellowstone?
When visitors come to Yellowstone National Park, they come to see nature. For most visitors, that means coming face-to-face with wildlife species they have never seen before or rare animals that live only in Yellowstone's protected forest. Yellowstone National Park exists to preserve these different types of wildlife but also provides you and your family with an opportunity to enjoy the country's wild, open spaces as well as the animals that inhabit the park..
Come to Yellowstone Bear World to meet Yellowstone's animals in a safe, educational environment. We're a drive-through wildlife park where visitors can move through open spaces at their own pace, seeing free-roaming wildlife as they are meant to be seen: in their natural habitat. The following list details some of the different types of animals you may find when you make your next family visit to Yellowstone.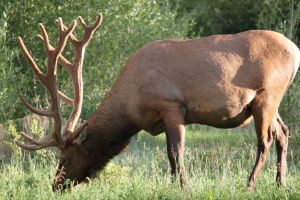 Deer, Elk, and Other Big Herbivores
Large mammals are common, breathtaking sites which live in the park. The different types of large mammals you may be able to see in Yellowstone might include:
American bison;

Elk;

Bighorn sheep;

Moose; and

Whitetail and mule deer.
Predators
There are far more mammals in Yellowstone than the ones listed above, though. During your drive-through, you could catch a glimpse of Yellowstone's most common predators:
Black bears;

Grizzly bears;

Coyotes;

Mountain lions;

Bobcats;

Wolves; and

Canada lynx.
You may also be able to find several different species of small predatory mammals during your visit to Yellowstone, such as foxes, rabbits, skunks, squirrels, raccoons, badgers, and otters.
Common Types of Birds
When you're in Yellowstone, you'll also see and hear hundreds of species of birds. Different areas of the park are home to different types of birds, so depending on where you go, you could spot waterfowl like snow geese and wood ducks, meadow and forest birds like warblers and sparrows, and even some of the park's bald eagles.
Snakes and Other Reptiles in Yellowstone
Yellowstone park is a cool, dry climate, so you won't see as many reptiles as you will birds and mammals. However, there are a few types of snake that live here, like the prairie rattlesnake and the valley garter snake.
Due to the climate, there aren't many species of amphibian in Yellowstone either. There are a few different types, however, with the boreal toad and the blotched tiger salamander which call the park home.
Various Fish Species
Take a look in Yellowstone's lakes to see a kind of animal that can easily be overlooked: fish! Yellowstone National Park is home to 19 species of fish, 13 of which are native species and 6 that have been introduced to the park since its inception. Native species include the longnose sucker, the mountain sucker, and the mountain whitefish. Introduced species include the brown trout, rainbow trout, and the lake chub.
Learn More About the Animals you Meet at Yellowstone Bear World
Despite our name, you'll meet more than just bears at Yellowstone Bear World. Come check us out during your next visit to Yellowstone National Park and speak with our friendly staff members about all we have to offer.