The Bear Necessity
Did you know that a grizzly bear is an omnivore? Although they will eat meat, more than 75% of their diet consists of nuts, leaves, roots, fruit, and berries. When food is plentiful, a grizzly bear can eat up to 90 pounds in a single day. There is a reason why they have to eat so much. When winter arrives they will be spending the cold months sleeping in a state of hibernation. They will be using the fat stored in their bodies to survive the winter.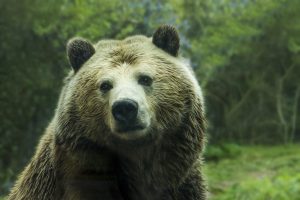 How to Make Amazing Memories
Among all the American wildlife, grizzly bears are one of the favorites. When you see your first grizzly bear, you will be amazed at its size. An adult grizzly bear can stand eight feet tall and weigh a staggering 800 pounds. Unfortunately, if you see them from a pair of binoculars you might miss the amazement. In order to see bears up close and personal, Yellow Stone Bear World is the place to go. We help you create memories that will last a lifetime. You will be able to see grizzly bears and other iconic Yellowstone wildlife from the comfort of your car. You and your family will be amazed to see elk, moose, deer, wolves, bison, mountain goats, black bears and of course grizzly bears. A visit to Yellowstone Bear World will be the capstone on your camping trip. If you want to see iconic Yellowstone wildlife, a trip to Yellowstone Bear World is your bear necessity.
Yellowstone Bear World
After you take an exciting Yellowstone wildlife viewing drive through our park, we can help you take your experience a trip further. We offer the opportunity to bottle feed our bear cubs. There is no way to get more up close and personal to a bear than this. Space is limited and this special opportunity fills up fast. In order to secure your place, make certain you make reservations in advance. We even have a special tour where you can ride in one of our specialized wildlife viewing vehicles. We even have a petting zoo. For a wildlife experience that is one of a kind, bring your family to Yellowstone Bear World.