The Top Five Things to Do in Yellowstone
Every year, millions of people from around the world visit Yellowstone National Park. It is easy to see why Yellowstone is so popular with visitors – there's no shortage of unique activities and things to do here specific to the park itself.
Below are five of the most popular things to do in Yellowstone National Park. If you're planning a trip here, take some time to learn about all the park's attractions to put together the most enjoyable itinerary for yourself and your travel group.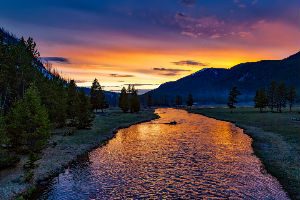 See Wild Animals in their Natural Habitats
Yellowstone National Park is home to many different species of wild animals. While you're at the park, you can see them up close in their natural habitats. A few great places to see the animals that call Yellowstone home are the Grizzly and Wolf Discovery Center and Yellowstone Bear World, two attractions that bring you face-to-face with Yellowstone's apex predators. You will also see animals throughout the park's many trails and valleys.
Sleep Under the Stars
Camping is a very popular activity in Yellowstone National Park. Campgrounds with a variety of amenities are located throughout the park, so you can choose the right campsite for your equipment, comfort level, and where in the park you'd like to spend your stay.
Hike through a Variety of Trails
Hiking is one of the most popular things to do in Yellowstone because when you're in the park, you're in undisturbed nature. A few of the most popular hiking trails in Yellowstone are:
Fairy Falls Trail;

Uncle Tom's Trail;

Lava Creek Trail;

Mount Washburn Trail;

Observation Point Trail;

Elephant Back Loop Trail; and

Mystic Falls.
See Old Faithful
Old Faithful, the first geyser in the park to receive a title, continually attracts large crowds of visitors to see its regular eruptions. Old Faithful is the most popular geyser in Yellowstone, but it is far from the only geyser in the park. In the Upper and Lower Geyser Basins, you'll see a variety of geysers, each with its own eruption schedule.
Fish and Boat in Yellowstone Lake
Yellowstone Lake is a cold water lake approximately 20 miles long and 14 miles wide, boasting 141 miles of shoreline. It's a great spot to catch trout, which makes it a very popular fly fishing attraction. If boating is more your speed, check out Yellowstone Lake while you're here. Rent a rowboat or a small motorboat to see the lake from the water for a totally unique experience.
Get Up Close with the Wildlife at Yellowstone Bear World
Be sure to check out Yellowstone Bear World during your next visit to Yellowstone National Park. At Yellowstone Bear World, you can come up close with North America's wild animals in their natural habitat from the safety of your vehicle. Get in touch with our friendly staff today to learn more about our admission prices, operating hours, and anything else you'd like to know about the experience.