What to Do in Yellowstone Beside Scenic Driving
One of the best Yellowstone attractions includes taking a drive along the park's roads and viewing its picturesque scenery, but this is not the only thing to do here. There are many exciting ways to enjoy the park, including seeing bears and other animals up close at Yellowstone Bear World
When you are in Yellowstone, you are in nature. You are in an undisturbed parcel of the United States' interior that offers a wide variety of ways to enjoy what nature has to offer. Below are a few additional ways you can immerse yourself in Yellowstone National Park to make the most of your time here.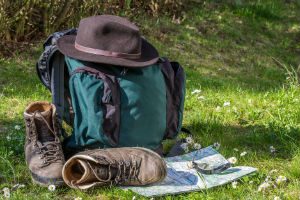 Camping
Yellowstone National Park has many campgrounds with varying amenities and price points so you can choose how much you want to spend and how much you want to "rough it" while you're here.
While you're in the park, your campsite is your "home base." Camping in Yellowstone is a foundation for the other activities you can enjoy while you're here, like hiking, fishing, and seeing wild animals up close in their natural habitat.
Hiking
Hiking is one of the most popular activities in Yellowstone, and for a good reason. There are 900 miles of hiking trails across the park. Plan a short day hike or go on a multi-day journey through the wildness. Seeing the park on foot is a completely different experience from driving through the park. You can take trails to areas that vehicles cannot access and see landmarks and wildlife that you may not experience from your car.
Visiting Famous Landmarks
Old Faithful is perhaps the most famous of Yellowstone's landmarks, but it is far from the only landmark in the park. Many people enjoy the Grand Canyon of Yellowstone, a large canyon through which flows the Yellowstone River (a popular rafting spot) or the Grand Prismatic Spring, one of the largest and most colorful hot spring geysers in the world (too hot, however, to take a dip in). When planning a trip to Yellowstone, consider stopping by some of these other attractions for additional and activities.
Fishing
Both fly and lure fishing attract thousands of people to Yellowstone National Park every year. If you are interested in going fishing in the park, you must obtain a license, but there are several species of fish you can expect to catch if you are in Yellowstone:
Brook trout;

Brown trout;

Lake chub;

Lake trout;

Rainbow trout; and

Cutthroat trout/rainbow trout hybrids.
See Bears from the Safety of your Vehicle
At Yellowstone Bear World, you can see bears, elk, and other animals native to the park from the safety of your vehicle. It's not a zoo but rather an immersive nature drive-through that brings you into the animals' habitat to see them going about their daily lives. It's a unique educational experience that can change how you view wild animals.
To learn more about Yellowstone Bear World, give us a call or check out our website. Our friendly staff members can answer any questions you have about our hours of operation, our admission prices, and what you can expect at Yellowstone Bear World.