You Won't Miss out at Yellowstone Bear World
Imagine spending the time and money to visit Yellowstone or Grand Teton National Parks, and realize you've missed out on the iconic wildlife. Having your family see grizzly bears, black bears, wolves, elk, moose, bison, deer, and mountain goats is part of the adventure. Unfortunately, seeing wildlife at a National Park is all about being in the right place at the right time. At Yellowstone Bear World, you can be at the right place at any time. That's right. All of the iconic, frontier wildlife you were hoping to see is at Yellowstone Bear World. You will be able to see everything from the comfort of your own vehicle as you take a driving tour through our family owned wildlife playground. When you come to Yellowstone Bear World, you won't miss out on any of the fun.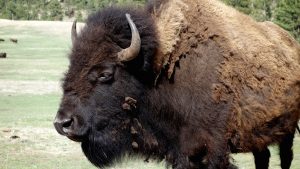 Rides and Yellowstone Activities
With admission, you can drive through our outdoor wildlife oasis and see all the wildlife you were hoping to view. The fun doesn't stop with the tour. We have a variety of other Yellowstone activities that will transform a standard vacation into major memories. We have an assortment of amusement park rides and a petting zoo. All of these activities are included with admission. If you are looking for something more, we have it. We have special experiences, but the number is limited so you will need to call and reserve your place in advance. The first one is a special curator tour. You will be able to go behind the scenes at Yellowstone Bear World and see how we take care of our free roaming wildlife. We even have special vehicles that enable you to get the very best pictures. You won't miss out on any wildlife when you schedule a curator tour. The second special Yellowstone activity is our most popular. If you want to get up close and personal with bears, you can bottle feed our bear cubs. Guests who have experienced this special activity never forget their amazement. If this is something you want to experience, make certain to call us and schedule the experience in advance, because availability is limited and the opportunities fill up fast.
It's all about Wildlife
We don't want you to miss out on the adventures of seeing wildlife. We are a family owned and operated business dedicated to giving people the opportunity to see  the iconic wildlife of Yellowstone. There is nothing quite as impressive as seeing a 600 pound grizzly bear stand on its hind legs, or watching a 240 pound black bear climb a tree. You will marvel at how mountain goats can climb up sheer surfaces and remember the majesty of our bison. Since Yellowstone Bear World is all about the wildlife, you definitely won't miss out when plan a visit.