Three Bears Gift Shop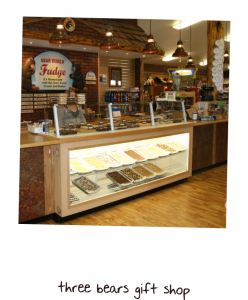 The Yellowstone Bear World gift shop is a bear lover's dream store! Three Bears Gift Shop has been expanded to showcase our "beary" unique gifts, clothing, collectibles, toys, huckleberry products, and more. We have one of the largest selections of bear items in the country. We feature Mill Creek artwork, figurines, home décor, stuffed animals, toys and much more. 
We now feature mouth-watering homemade FUDGE! We have more than 20 scrumptious flavors to choose from.
Our signature flavors include:
Black Bear Drool
Moose Munch
Idaho Rocky Road
Huckleberry Swirl
Flavors too good to pass up!
---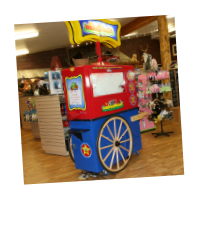 The kids will love our Animaland Bear Stuffing Machine! We have a large variety of bears and other animals to choose from and our staff will help the kids "stuff a bear". Clothes and shoes can be purchased to dress the stuffed bears. So much fun!!
For Additional information contact Stephanie
Online Gift Shop:
We apologize for the inconvenience but the Online Gift Shop will be down until further notice.